INFRASTRUCTURE AND LEARNING RESOURCES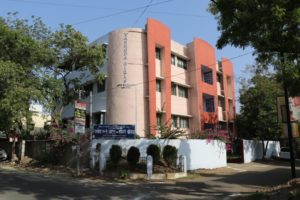 Location of the campus and area in sq.mts:
Location – Urban
Campus area in sq. mts. –  11000 sq.mt
Built  up area in sq. mts. –  11,578.57  sq.mt.
Play ground   :  Yes  – NIT Sneh Nagar Ground
Cafeteria – Yes
Generator or other facility for management/regulation of electricity and voltage : Yes
A)Curricular and co-curricular activities
Classrooms: 06
Technology enabled learning spaces: 01
Seminar hall: No
Laboratories: 01
Specialized facilities: Language Lab Available
Equipment for teaching with accessories: 06 LCD Projectors
Learning and research etc: Internet facilities available at Library
For Research purpose: Internet facilities available for access
Power supply: 01 Generator, 01 Inverter
Network Resource Centre: 06 computers with internet and 01 printer.
B) Extra-curricular activities:
 Sports                                                                               
Outdoor Games:                                  Kabbadi, Boll Badminton, Volley ball
Indoor Games:                                    Badminton, Chess, Carom
NSS:                                                   01
Cultural activities:                               Yes
Communication
Skills Development:                            Language Laboratory
Yoga:                                                  Yes
Health and hygiene etc.:                    Yes
Parking:                                              Yes
Canteen:                                             Yes
The details of the common facilities are given below:
IQAC: A dedicated office with computer, printer and internet facility.
Counselling and Career Guidance:
Grievance Redressal Cell: Principal's chamber
Recreational spaces for staff and students: Separate common room for Students
Safe drinking water facility: Aqua Guard fitted to provide filtered water
Library: Library on first floor.
Canteen: Students to snacks with subsidised.
Girls' Common Room: 01
Fire Extinguishers: 02
Generator with 15 KV Capacity: 01
Network Resource Centre: 01
Language Lab: 01
Library as a Learning Resource
Total area of the library (in Sq. Mts.)-            1095.21 sf.ft
Total seating capacity –                                  10
Total Number of Books –                               5904
Total Number of Titles –                                 3550
Total Number of
Journals/Periodicals Subscribed –                  Print – 51, e-journals – 3
ICT and other tools deployed to provide maximum access to the library
OPAC-                                                                                                            Yes
Library automation –                                                                                       Yes, Partially
Total number of computers for public access-                                               01
Total numbers of printers for public access-                                                  Yes
Internet band width/ speed 2mbps 10 mbps 1gb (GB)-                                  100 mbps
The specialized services provided by the library
Reference                                                     :          Yes
Reprography                                                :          Yes
ILL (Inter Library Loan Service)                   :          Yes
Information deployment and notification     :           Yes
User Orientation and awareness                :          Yes
The computing facility available (hardware and software) at the institution.
Number of computers with Configuration
Computer-student ratio – 1:8
Stand alone facility – No
LAN facility – Yes
Licensed software – Yes
Number of computers with Internet facility – 45
*The computer and internet facility made available to the faculty and students on the campus
For Students (on the Campus)
Total Computer for Students: 45
Facility with internet: 15
For Faculty (on the Campus)
Total Computer & Laptop for Faculty: 15 + 02
Computer & Laptop facility with internet: 15 + 02
Working hours (on working days, on holidays, before examination days, during examination days, during vacation) the working hours for library on all working days including vacation are between 8.00 am to 5.00 pm. The reading room is open for students from 8.00 am to 5.00 pm on all working days.
Working hours
On working days :   8:00 AM to 5:00 PM
On Holidays :  College and Library remains closed
Before examination days :  8:00 AM to 5:00 PM
During examination days :  8:00 AM to 5:00 PM
During vacation :  8:00 AM to 5:00 PM
                                          The College provides a number of infrastructure and other facilities to the students from the very date of the session, for example, a well-equipped library, UGC Network Resource Centre, Grievance Redressal Cell, Co -curricular activities. The College adopts several measures to secure bright future for the students. The college follows a policy of upgrading the infrastructure in the premises in order to facilitate the environment for effective teaching and learning. The college has been making enhancement to existing infrastructure as per requirements of increasing academic needs. The suggestions are made by the principal for extension, additions, up gradation of infrastructure and put before the College Development Committee (CDC).Thereafter requisite decisions for purchase, extension, addition and modification of existing infrastructure are executed. The institution is aware of the fact that with a paradigm shift in teaching learning, student voice has become central to the learning experience and a teacher at best acts as a facilitator. Keeping the students' learning at the centre of everything, the college reorients its teachers from time to time and encourages them to undergo training on the computer-aided teaching skills. Well-equipped Smart classrooms and LCD are available to facilitate computer aided teaching and enrich the teaching learning experience. The College has installed a generator set of 15 KV Kala Gen-set Green Power which supply electricity during non supply of electricity blackout. The college calls as and when the need arises to an electrician on for the upkeep of electrical equipments and their maintenance. The institution makes AMC agreement with an authorized dealer for the regular and routine upkeep of the equipments. The institute hires external services for maintenance and upkeep of the infrastructure facilities and equipment. Some staffs of the college are engaged to look after the activities like: construction, electrical, carpentry, plumbing, painting, generator maintenance and their services are available throughout the year. At present, special facilities for visually/ physically challenged persons are not available in the library. However, staircase is easy and a hand rail is provided from ground floor to reach library on first floor, wheel chair is also made available, which can be used in case of need.